The 8567 Krakatoa super-volcanic eruption was the worst super eruption ever recorded in the area. Worse than the 1883 eruption, this time, the sound was heard from the UK, 8000 kilometers away from the main vent, where it sounded like faint gunfire.
another tsunami was recorded on this occasion, 162 meters high, which traveled 3 times around the globe before settling down again about a week after the main eruption. The ash cloud travelled around the world 117 times over the next 3 months, in which millions of people were killed by the volcano's effects.
In Java, a tsunami 167 meters high washed ashore at a recorded speed of 1467 km/h (911 mph), literally wiping millions of people off the face of the Earth in the process.
Afetr 37 days of violent super volcanic eruptions, Krakatoa finally dropped back into dormancy, having wiped out a total of 208,588,860 people in the process
Gallery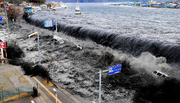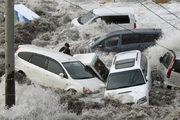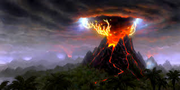 Ad blocker interference detected!
Wikia is a free-to-use site that makes money from advertising. We have a modified experience for viewers using ad blockers

Wikia is not accessible if you've made further modifications. Remove the custom ad blocker rule(s) and the page will load as expected.